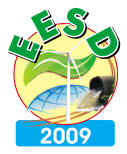 06 May 2009 - MUET organized First International Conference on Energy, Environment and Sustainable Development for Growing Economies (EESD 2009) from 04 - 06 May 2009 at Mehran University of Engineering and Technology, Jamshoro, Pakistan.

The conference has provided a platform to the experts from all over the world to present their work and share their expertise with academia, researchers, stakeholders, policy makers and etc. The experts discussed the possibilities of managing the energy crisis and protecting the environment sustainably.

The EESD2009, the first ever event at Mehran UET being successful in getting response from public and private sector universities, research organizations, stake holders and industries from all over the world in the field of Energy, Environment and Sustainable Development. More than 100 research and review papers received in the six themes; Energy Management and Conservation, Environmental Engineering and Management, Renewable and Emerging Energy Systems, Biological and Chemical Treatment, Waste Treatment and Management, and Energy and Environmental Sustainability. Seventy experts presented their papers (scrutinized and accepted by technical committee) in the eight technical sessions of the conference. Also, prominent foreign & local experts delivered keynote speeches and plenary lectures in the conference.

The last day of the conference provided the opportunity to the participant to visit the first wind farm of Pakistan at Jhampir and Keenjhar Lake, Thatta, Sindh.